Bacula backup
Bacula is a set of computer programs that permits the system administrator to manage backup, recovery, and verification of computer data across a network of computers of different kinds. Find more information on http://www.bacula.org,
HTML Manual ,
Bacula: для тех кому надо по-быстрому и в картинках ,
Централизованное резервное копирование данных Windows и *nix серверов средствами Bacula
Overwview
In bacula you have 2 daemons:
Server part:
bacula-dir - Director Daemon TCP port 9101 -program that supervises all the backup, restore, verify and archive operations
bacula-sd - Storage Daemon TCP port 9103 - Storage daemon is responsible for reading and writing your tapes/storage media
Management:
Bacula Console - service is the program that allows the administrator or user to communicate with the Bacula Director Currently, the Bacula Console is available in three versions: text-based console interface, QT-based interface, and a wxWidgets graphical interface.
Bacula Monitor - A Bacula Monitor service is the program that allows the administrator or user to watch current status of Bacula Directors, Bacula File Daemons and Bacula Storage Daemons and works with GNOME, KDE, or any window manager that supports the FreeDesktop.org
Client part:
bacula-fd - File Daemon TCP port 9102 - program that is installed on the machine to be backed up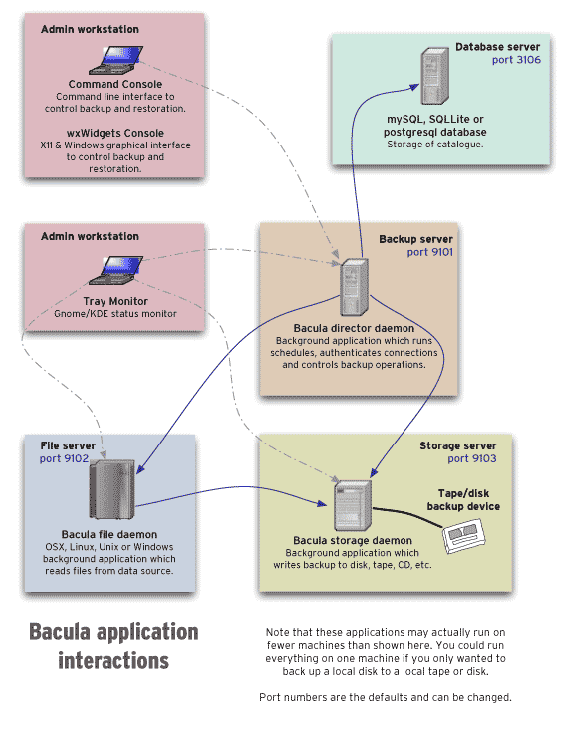 Bacula Configuration
In order for Bacula to understand your system, what clients you want backed up and how, you must create a number of configuration files containing resources (or objects). The following presents an overall picture of this: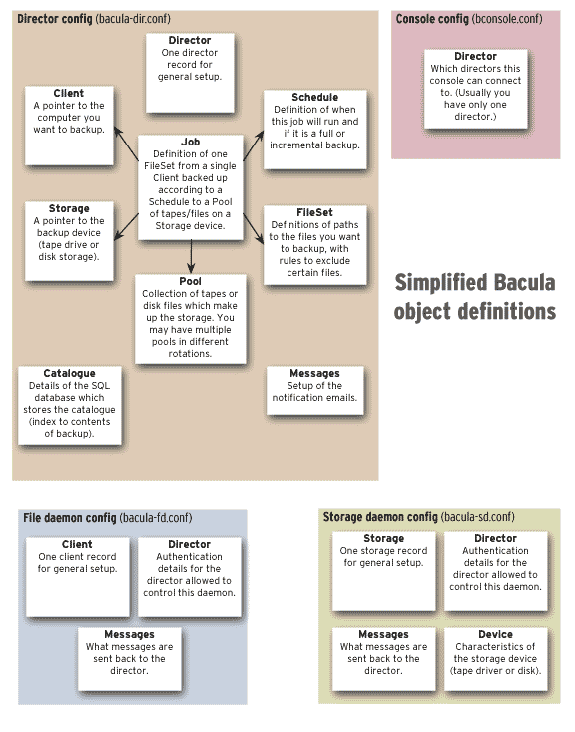 Interactions Between the Bacula Services
The following block diagram shows the typical interactions between the Bacula Services for a backup job. Each block represents in general a separate process (normally a daemon). In general, the Director oversees the flow of information. It also maintains the Catalog.